Greetings, creative soul. I am about to explain to you, in full detail, how you can change your life. Additionally, I'll show you the easiest way to express your creative, artistic side.
This method uses only technology. So, welcome to the twenty-first century. This is the age in which our devices have become an extension of our hands.
We eat, sleep, and breathe technology. So many things around us are digitally created. This phenomenon is so widespread that there is no stopping it now. So get on board now, or you'll get left behind.
Technology is changing, and many people have created new and cool ways to explore. You can now tap into your creativity. As an artist, there is so much you can do right now.
Don't think of technology as a replacement for your good old easel. Yet, it should inspire you to push the boundaries of what you can do.
You can use the new technology to augment your traditional work. An entire world is there for you to explore. I am here to help you get started with digital art and ease your way into this beautiful realm of possibility.
What is Digital Art?
To put things in simple terms, it's painting digitally. It is the creation of artwork entirely on a screen.
Some may do it on their laptops, but most people use a drawing tablet like an iPad to create something beautiful.
Another key point is that digital painting uses technology to create artwork. The portraits are not only made on the chosen device.
You can also use scanned photographs of something you created before. As a matter of fact, the forms of artwork are limitless. It can be a simple sketch in the paint app using your mouse.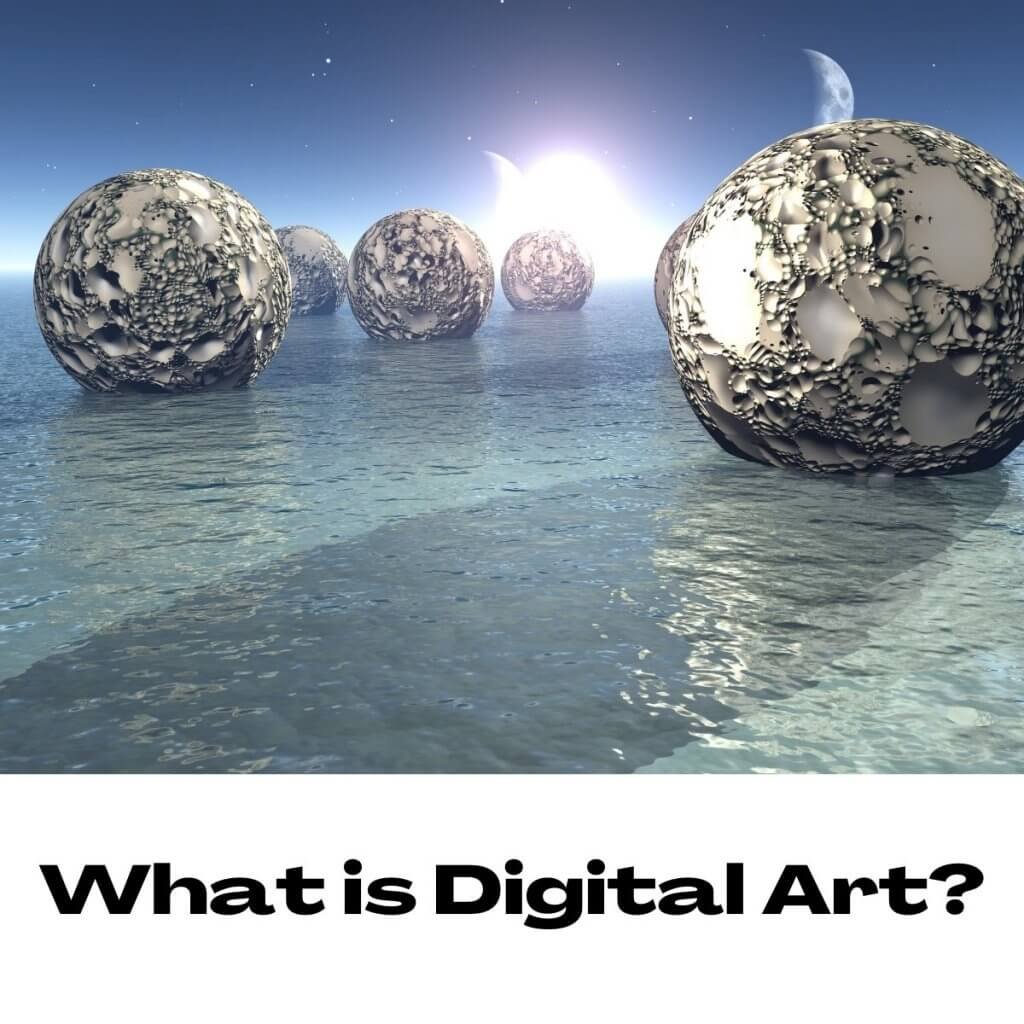 Or it can be computer-generated animations. It allows for using tools to correct colors and clean up mistakes. At least, the integrity of the original remains. It does so in ways that are not possible with traditional media.
I'm sure you've heard of big-budget films using CGI. Unfortunately, this beginners' guide will not cover computer-generated imagery (CGI).
Still, we will be laying the groundwork for you to be on your way to producing those impressive animations.
You may be asking yourself: Can beginner artists start with digital art? How do I start digital art? Can you learn digital art by yourself? What should I do first in digital art?
Rest assured, you will find the answers to these and more in this beginners' guide. You can sit back, relax, read, and gather your material because things are about to get digital. Here's your beginner's update.
How to Get Started with Digital Art?
The first thing you will need to do to start digital drawing is gather your materials. We are dealing with digital media. So, the material required will be different forms of technology.
By the same token, you will need to consider hardware items like your computer or tablet. You'll also need to consider digital art software like the apps you may choose to create the artwork.
The software and the hardware go hand in hand more than you think. So consider a program with an operating system powerful enough for the project you plan to begin.
Choosing Hardware for Digital Art
The hardware is your easel when doing digital paintings. You need something substantial to hold your creations. There are quite a few variations of things that you can consider for your hardware. Each one offers a different experience.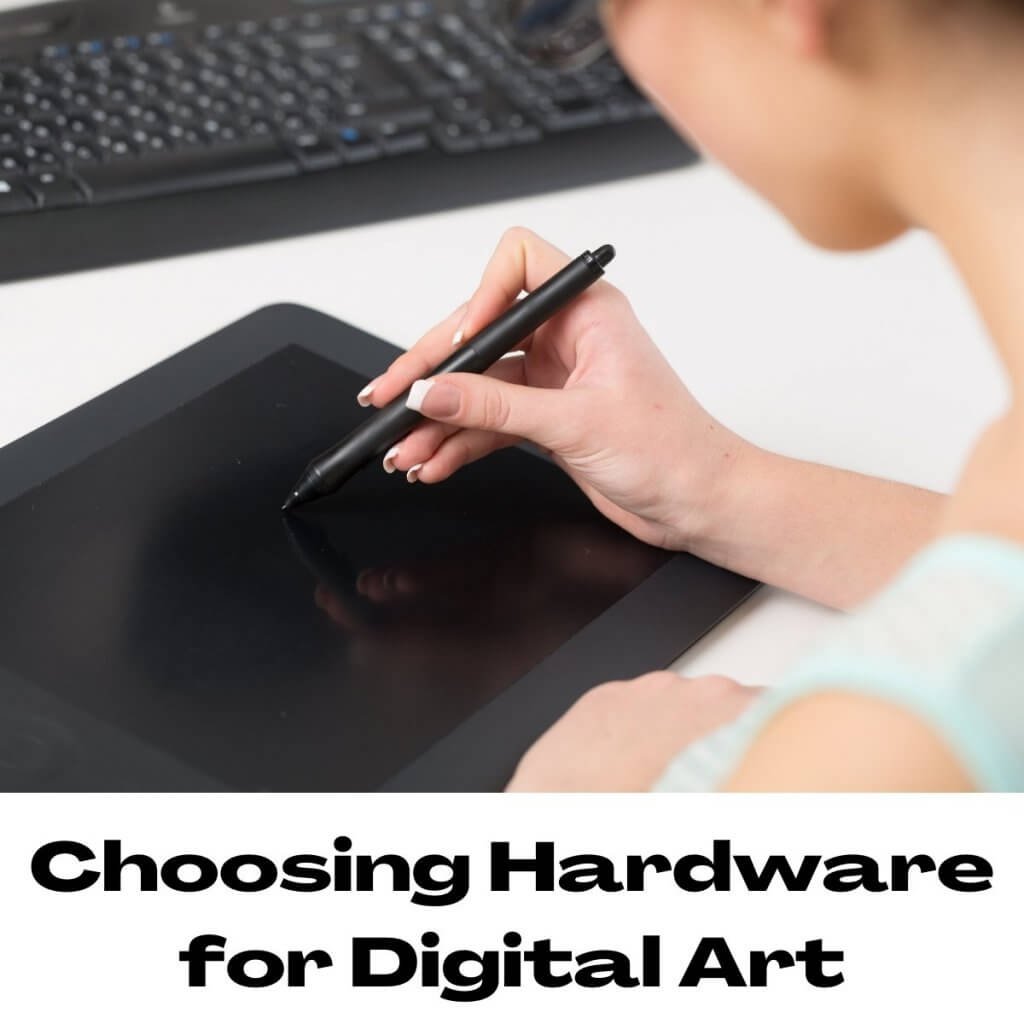 One of the most common hardware pieces that beginners scoop up is tablets. The tablets are best used with a stylus that works like a pen or paintbrush.
Another hardware item that some people opt for is a laptop or desktop computer.
They swap their pencils for a mouse or a trackpad. For others, their cell phone is all they need. Anything that achieves a graphic display can act as an easel.
Let us talk further about those options we mentioned.
Tablet
For many people, this is the easiest option for making digital paintings. It replaced a sketchpad and has as many pages, and space for ideas as the memory card can hold.
Furthermore, the tablet is interactive, and many of the newer models are responsive. So responsive, in fact, that using them feels no different from using a pen and a sheet of paper.
The most recommended models are the iPad Pro and the Microsoft Surface Pro, each of which has its respective stylus. These styluses enhance the user experience, especially for creators.
The iPad Pro works with Apple's Apple Pencil, while the Microsoft Surface Pro is compatible with the Microsoft Surface Pen. Both are sold separately. You can also look into pen tablets, a two-part input device.
Moreover, this type of tablet consists of a digitizer tablet and a pen-shaped stylus.
Wacom has a line of pen tablets with various choices for your creative interests. This device is also known as a graphics tablet.
Screen protectors, like this one, have a paper-like feel. They create an even more familiar experience for beginners like yourself.
Laptop and/or Desktop Computers
Laptops and desktops are less interactive for the artist. Yet, painting stunning artwork using your mouse or trackpad is very possible. Some prefer this method.
Laptops and desktop computers offer remarkable displays. They're great when paired with digital art software like Adobe Photoshop.
They create an incomparable experience incomparable. Notebooks and desktops also work better when painting animations. They're perfect for posters, flyers, and videos.
This is not to say that they are impossible on devices like the iPad and Microsoft Surface pen tablet.
But, the operating systems on the different pieces of tech optimize in different ways.
So, for projects involving animations, and Photoshop editing, it may be wiser for you, the artist, to buy this type of hardware to get started.
Photoshop allows you to produce a sketch layer that looks like a pencil sketch. Another option is to buy a program like Corel Painter. But, first, ensure that you're interested in this art form. Corel Painter costs a pretty penny.
Cell Phone
This may sound crazy. But, for some people, a cell phone is all the technology they need to paint beautiful artwork. Some appreciate its compactness, making it more convenient for their mobile lifestyle. Others may prefer its interface.
It is worth mentioning that some cellphones, such as those in the Samsung Note line, offer users a stylus. Other phones, such as Apple's iPhones, are incompatible with styluses.
Cellphones also have weaker operating systems in most cases. But, they may be the perfect piece of tech you may need for a quick sketch.
These devices allow you to draw directly onto your display with a stylus. It's the ideal tool, even if you're just starting digital art.
In essence, based on your lifestyle, there are options on which piece of tech may be best suited for you.
Your personal preference also matters, and so does the type of painting you want to do. So, you can use this guide or even do a bit more research of your own to find out which device would match your needs the best.
Choosing Software for Digital Art
The software is your canvas. All the painting you want to do in this field will depend on which one you choose. It incorporates the operating system that will power the device.
This OS is what gives the best user experience. The software also includes the user interface. It covers the apps you, the digital artist, will use to make digital drawings.
One of the more popular apps that artists use in Procreate. This app is, of course, downloadable in the app store for a $10 fee.
Many of the popular programs for creating digital art are subscription based. Or else they call for a download fee. Here is a list of our favorites. They are the creme de la creme for free versus paid digital painting software.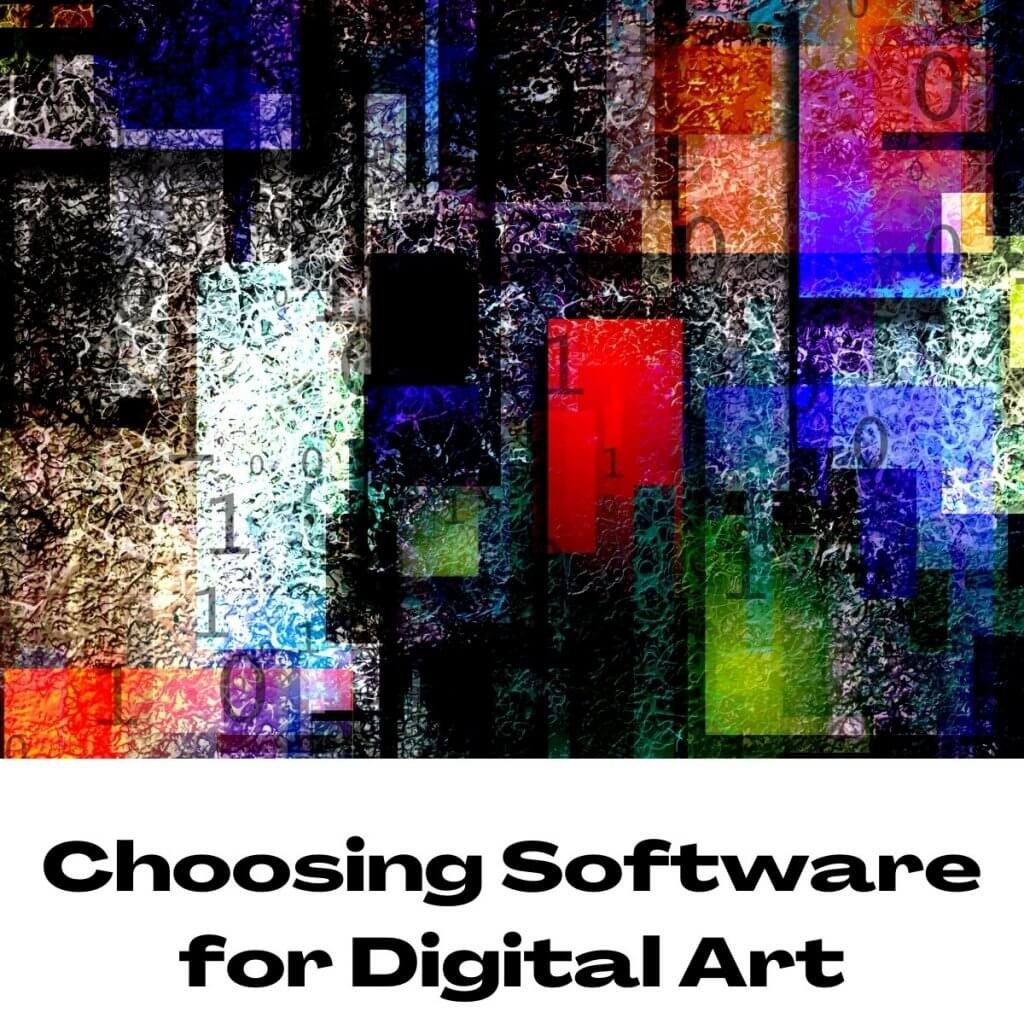 Free Software and apps
We've listed some painting apps that are free of charge (may include in-app ads coupled with locked features) below.
Free apps are great if you would like to dabble, but you are not sure yet ready to take on the total commitment.
Search for our number one free favorite on this list: Clip Studio Paint Pro. This software is compatible with most touchscreen tablets. It also works with regular desktops and laptops across the board. Some of the free painting software listed above may not be available on your device.
Paid software and apps
The full version of most software offers unlocked features. They give you the best creating experience. The full version, in most cases, is not cheap. You can factor it into your materials cost when you search for hardware for the digital painting project, i.e., the iPad or Surface Pro.
Some phenomenal paid software to check out are:
The software works hand in hand with the hardware. For example, the software you think may serve you best may not be available on the hardware device of your choice. For this reason, you may need to do extensive research.
You must find a middle ground that would have the best compromise for your needs. If possible, it may also be a good idea to go to your tech store in person and test out the items yourself.
Most tech stores have their devices on display for precisely this purpose. It allows people like yourself to test them to see which is most compatible and/or comfortable for them.
Another trick is to find out what professional artists are using. Obviously, they would want the best tools for their work, so it's a good indication for you.
Remember, this is a significant investment you are about to make. These items are not, in most cases, cheap. Do not be afraid to test your equipment before making your final decision.
How to Get Into Digital Art?
Ready to get started with digital? There's no easier way than to dive right in! This art form knows no bounds, and there are no specifications or skill requirements to start.
Is this something you are interested in or want to try out in your spare time? There is no better advice I can offer you than trying it out.
I can provide you with a guide on how to use the systems and how to improve your skill in that system. I can also show you how best to optimize the system to your needs.
Other than that, the canvas is yours to use in any way you see fit. Your first project can be a simple one.
For instance, it can be a dot on the screen or your signature across the page. Most people try their hands at simple line art when they get started. Try it, and don't limit your creativity.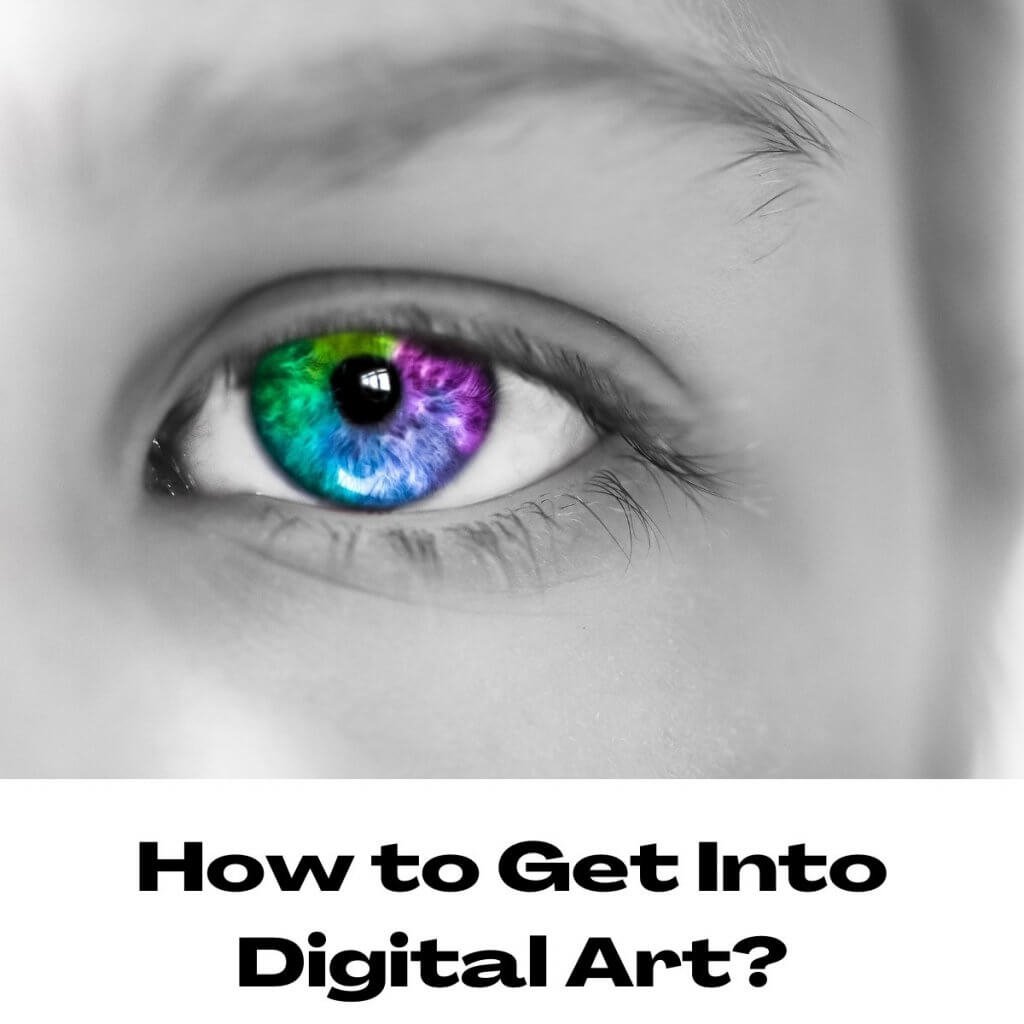 Can a Beginner Start with Digital Art?
Anyone can start with Digital Art. This can be the first line you have ever sketched in your life, but there are no limitations for you. In fact, it may benefit you more.
Traditional art requires many tools for you to do specific projects. Digital drawing using a drawing tablet or similar device is much more compact. It saves you space, time, and money.
It is also more portable in comparison to traditional art. The portability compounded with the convenience is excellent. It offers an easy, quick way for a beginner to fall in love with it.
Can you learn digital art by yourself?
Well, this would depend on how tech-savvy you are, but it is achievable. In addition, with a reliable connection to the world wide web, you can teach yourself anything.
The user interface is so simple that you can doodle around and familiarize yourself. There is no need to connect to Wi-Fi, so get in and play around with it.
Yet, it would always serve you best to work with a guide. That way, you are not leaving things to chance, but you can have a sounder understanding of what you are doing. You can also be more confident that you are heading in the right direction.
What should I do first in digital art?
Do simple exercises to warm up. If your device allows, paint directly onto it. Start by drawing a straight line. See how the technology feels. Get used to the interface.
Determine ways to customize your brush strokes and find the location of the color palette. Familiarize yourself with your new best friend. Your canvas is the digital art app of your choosing. Try drawing small illustrations on your screen.
After doing that, you are now much more ready to begin. If you click here, you can find templates you can use to practice your artwork. Keep in mind pressure sensitivity.
This metric plays quite a considerable role in the different strokes and fonts you may make on the app. Fiddle around and see how many you can unlock.
How to Draw Digital Art?
You have now gathered your material. You also understand that anybody can start without being a professional artist. It is now time for you to get started with digital art.
Many programs and digital painting techniques are on par with the industry standard. All are available to you at a finger's reach to assist you.
There are so many different careers you can explore as a digital artist that it is incredible. You can join the ranks of comic artists. Start by drawing an illustration on your screen and then adding a storyline to it.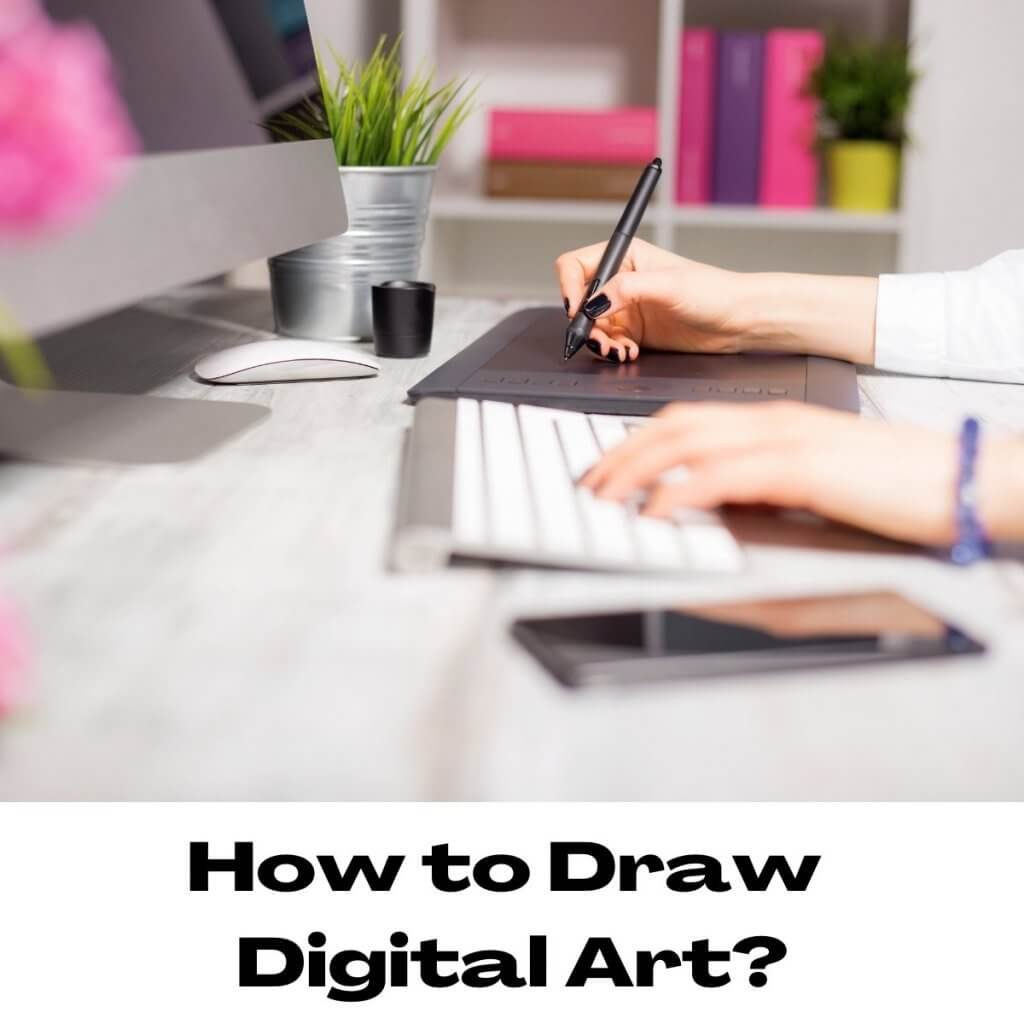 Another option is drawing images based on a fantastic storyline. You can also look into becoming a graphic designer, creating many great art pieces. Use them as statement pieces, flyers, and awareness spreaders. They can be anything you would like them to be.
Knowledge of digital art leads to many other cool careers. For example, you can be an interior designer. The interactive nature of this type of art allows quality design for a space in an all-new way. It's never been so easy to bring your ideas to life.
How to draw digitally
I will outline how to achieve at least a straight line using the different forms of technology.
Tablet
First up is the tablet. My tablet of choice is the Apple iPad paired with the Apple Pencil. You do not need this specific tablet brand or stylus. You don't need much equipment: only a touch screen tablet or device compatible with a stylus.
Your Microsoft Surface and Surface or your XP-Pen should work fine. Before buying a tablet, make sure it has enough pressure sensitivity. It must be able to augment your workflow.
Begin by opening a new document. Next, see how your screen feels against the Apple Pencil, XP-Pen, or whatever you choose to use. You can make different layers for the other lines you intend to use. Turn them on and off for a better visual while working.
Make a stroke within the drawing area. See, that was not so bad, was it? Now draw a line but hold on to the tip for three seconds in the end. It should now be completely straight, with no bends, curves, or wobbles.
You can also make a uniformed curve or wobbly line if you desire. Sketch that curve, and hold onto the tip for three seconds afterward.
Using a touch screen tablet is very much like traditional drawing in detail with a pen. You have more tools available on the digital platform as you can download any new paint brush size or shape.
In other words, no more going to a store that may or may not have that specific tool you desire in stock. Not to mention, having all tools imaginable on display is pretty convenient. You can choose based on your personal preference, at your leisure.
Laptop or Desktop
Next, I will explain how to draw digitally on a laptop or desktop computer. You first launch a new document in the app or software of your choosing.
You will need to use your mouse or trackpad to draw lines for sketches. Click on where you wish to begin in your drawing space. Then without letting go, drag it in the direction you would like.
Quite simple if you ask me. Granted, you achieve smoother lines on the tablet. But if you work with care, smooth straight lines are also attainable on the laptop or desktop screen.
For other design projects, you may need to take a different approach. That includes projects done on programs such as Adobe Photoshop. You may not need to draw or sketch lines at all.
Not all programs are created equal. You can use a template or a blank canvas in software such as Adobe Photoshop.
Or you can do a flyer or graphical piece of artwork, all with the same mouse technique explained above.
Cellphone
Finally, your cellphone, the smallest of all the digital art mediums. Depending on the app, or the artwork you intend to do, you may need to use your finger as a stylus.
That is, of course, if your phone does not come equipped or is incompatible with that technology.
You can also do animated art on your phone in the same way you would on a bigger screen. Anything is achievable.
Making your first marks
The blank canvas should be an inspiration that you can use to make anything your heart desires.
The more you sketch and get familiar with the system, the more your skill improves. Then you can do more and push your boundaries.
Let us start with the basics. You already know how to hold down on your lines to achieve more uniform, smoother lines. Well, that goes for shapes too.
You can try it out by first sketching out a circle. Hold down on it for three seconds to get a circle. You can also sketch other shapes like a star, a heart, or a triangle, and if you desire, a uniform shape.
So try the three-second trick. Irregular shapes may not work as well with that three-second trick. But that is okay because art is anything but uniform. Let your uniqueness shine through.
Learning Fundamentals of Digital Art
Now that you're comfortable with the tablet, stylus, and software, you can make basic shapes and different lines. You next need to learn, understand, and incorporate the fundamentals.
To clarify, these fundamentals are form and structure, proportions, perspective, composition, color, and lighting.
Proportions are sometimes called "anatomy." They refer to your understanding of the body's anatomy you are trying to draw.
This includes your knowledge of the surface forms and their movements and shadows. You'll also need to learn about highlights and joint placements.
You will need to practice often to improve your awareness of the lighting and value of the artwork. It is the details of shadow and light placement on objects. Practice always makes perfect, of course.
It's also essential to understand how different colors relate to each other and how to use them.
You must coordinate these different colors, blend, and arrange them. Then you will understand why some colors work better together than others.
Composition assists your artwork in conveying its message and enables you as the artist to speak through your art. It balances the piece. What does your art say?
The form gives two-dimensional drawings, on a two-dimensional screen, with three-dimensional characteristics. It gives your piece depth and gives it a more realistic feel.
Finally, perspective is what draws out your piece. It gives the work a realistic feel based on the color, tone, or shading/light used.
Example Workflow
Want to have the best experience in creating digital art? It would be best practice to begin developing a personal workflow. A group of routines will help you have a natural and smooth workflow.
1. Make a favorites tab for your favorite colors to use while doing your digital painting. Include your favorite brushes and brush thicknesses.
2. Learn shortcuts on your device. Some applications incorporate shortcuts to speed up the work process.
An example of a shortcut would be pressing the 'ESC' button to escape from the full-screen view. Different applications incorporate different (or similar) shortcuts. So it would be wise to learn and memorize them.
3. Create layers and name them. You will know exactly which layer you are referencing or using when drawing.
4. Use a reference photo. Beginners may find the process overwhelming to create a masterpiece from scratch.
But it is okay to use a reference photo. Everyone uses references, though they may be in different forms, such as a live model or landscape.
Once you have practiced with a reference photo for a while, you can try to create art from images in your memory.
5. Take your time. There is no need to rush. You are creating a masterpiece.
You can redraw the same line as many times as you like. Ultimately, it only matters if you're satisfied with your piece.
5 Things to draw Digitally: Art Ideas for Beginners
As a beginner, you must understand that you cannot limit what you can create.
This guide is here to help and inspire you on some of the possibilities available to you. Look at these fantastic ideas of what you can make as a beginner digital painter.
1. Logos
As a beginner, you can design fake logos you think would look better for some of your favorite brands. You can even design logos for imaginary businesses. You can also prepare for a company you hope to open in the future.
2. Characters
A great way to practice your graphic art is to create characters. You can design characters for your very own story in your head.
The more you draw those characters, the more you perfect your craft. One of your first projects can be creating a simple coloring book with digital painting.
Take inspiration from the world around you when creating your characters. Draw what you know.
3. Fan art
As practice, you can create portraits of your favorite entertainers or draw characters from books or video games.
You can doodle realistic versions, cartoon versions, and exaggerated versions. Or you can draw them precisely as they are already portrayed.
4. Geofilters for snapchat, Instagram and TikTok
The infamous dog face filter from Snap Chat had the world in a chokehold for several months.
That filter was in itself a product created by digital art and animation. As a beginner in digital painting, you can create filters like that.
Or your filter can change to suit an image's color, lighting, and shadows. Many apps these days incorporate these filters into their interface.
They allow creators such as yourself to upload them onto the system for everyone to use.
5. Portraits
Portraits and, if you so wish, landscapes are great projects. Beginners can use them to practice their digital painting skills.
You can draw yourself in a self-portrait, your pet, or your favorite meal. Or you can try your hand at a picture of the pond behind your house or a book on the bookcase in your den.
You can even attempt to recreate a personal version of a famous work of art, such as the Mona Lisa.
Best Beginner Digital Art Programs
If you are still not confident in your digital art skills, you can enroll in one of the online courses below.
They will offer an in-depth tutorial on honing your creative skills.
These are subscription-based sites. They will aid you in mastering these digital art skills.
You can also log on to YouTube to find any free tutorials like the ones linked below.
In conclusion, congrats for making it to the end of this webpage. Consider yourself one step closer to becoming a pro in digital painting.
You have everything you need, and nothing is standing in your way.
You can become a digital art god! That's pretty awesome, especially if you decide to make a YouTube channel.