What is Art Journaling?
Art journaling is a visual diary and a great creative outlet. You can utilize various art supplies and techniques to express your creativity within a journal.
You can use art journals to record your thoughts and express emotions while exploring different artistic styles.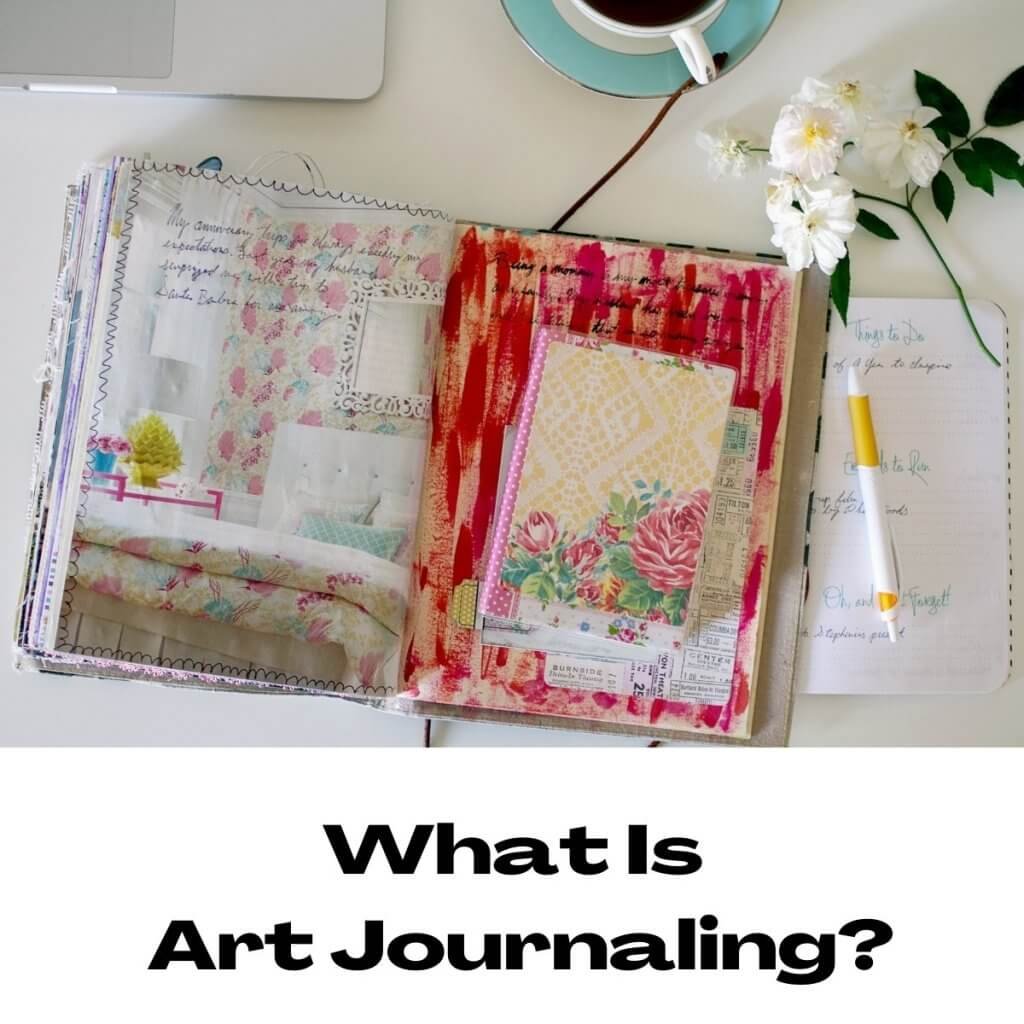 There are truly no rules for your art journal. You can make it however you'd like. That's the beauty of creating this type of journal!
If you enjoy writing and making art (whether it's drawing or mixed media art), starting an art journal would be an excellent idea for your next creative endeavor.
Art Journal Basic Supplies
When thinking about creating your first art journal, you only need as many supplies as you'd like.
At the least, you would need a journal and a drawing utensil. Even if you can't get your hands on a journal, you can create your own by binding some paper together.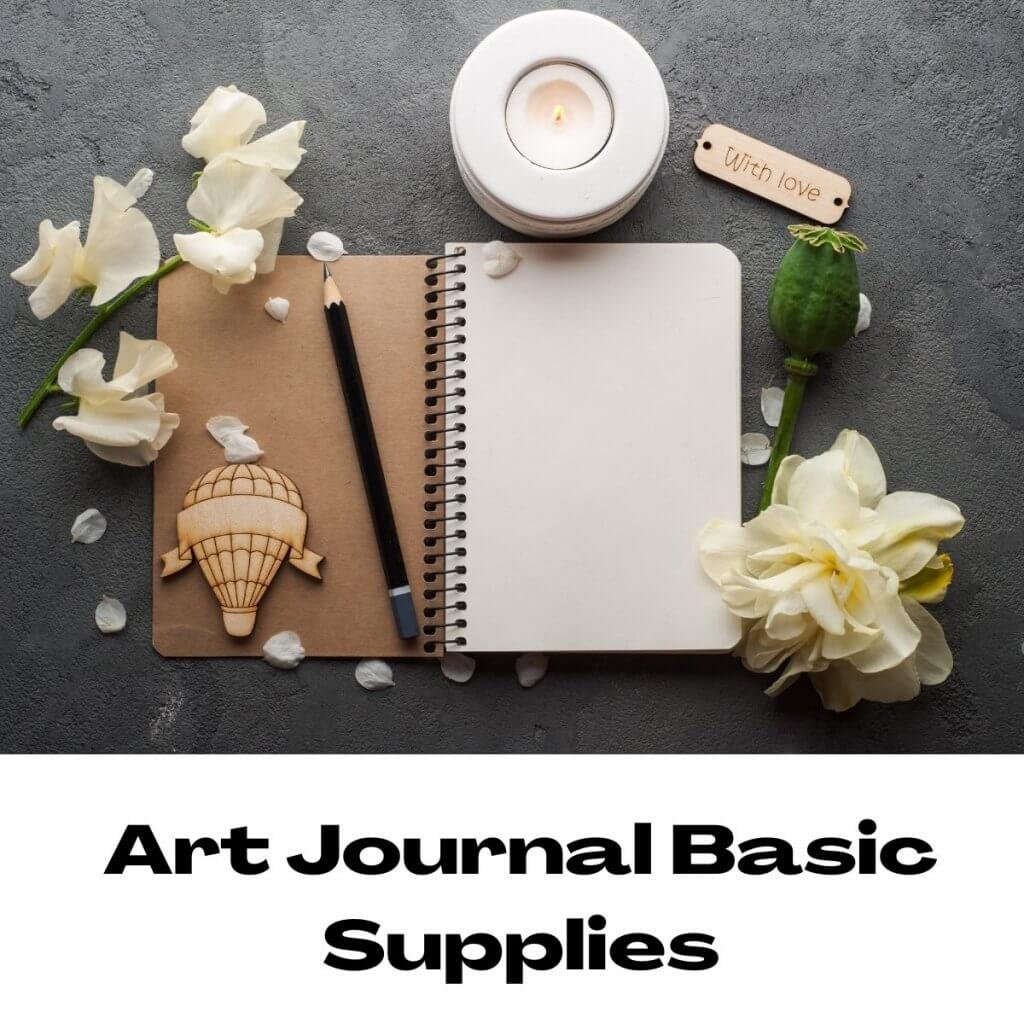 You can get started with whatever supplies you already have in the house!
There's no need to invest in expensive or fancy art supplies to start. Don't let that be a barrier to you beginning this creative endeavor.
Best Journals for art journaling
Your journal selection should be based on the different types of art mediums that you'll be using the most for your journal.
Sometimes I feel like just using watercolor and pen, so a watercolor sketchbook suffices.
Other times, I want to be able to have the freedom to use heavier paints like acrylic and add tons of collage pieces. There are a few mixed media journals that fit this need.
Ranger Dylusions Creative Journal
This is my favorite journal to use. It's a good size (roughly 8×11) and has 64 pages to fill up.
The pages are thick and perfect for many heavier paints and ink types. It's not so good for watercolor, but there are other journals I use for that.
Strathmore Hardbound Mixed Media Art Journal
This is a sturdy hardbound book and is good for sketching and journaling. I'm currently using this one to watercolor and journal.
As the binding is pretty tight, it probably is not as good for tons of layering or collaging as the book will not close very well.
We're still in the middle of our search for the best online class on art journaling!
Join our mailing list to get updates for deals on some of our favorite courses.
Do you teach a class or know someone who does? Contact us for information on how to be featured!
Best Supplies for Art Journaling
To add some art to your journal, you may want to think about using supplies like pen and ink, colored pencils, art markers, pastels, or watercolor.
If you're not as familiar with using some of these, check out our beginner's guides:
It's best to explore with many different supplies as you may prefer one over another.
Creating an art journal is a great way to test out new supplies. The ones listed below are just a few of my favorite supplies to use in art journaling.
Pens for Art Journaling
Sakura Micron Pens
These are my favorite pens for both journaling and sketching. I use it primarily for my travel art journal. You can get a pack with different tip sizes, including a brush pen.
Sakura Gelly Roll Moonlight
I have been using these Gelly Roll pens since I was a kid, so they also bring a little nostalgia to me as well. Gelly Roll pens also come in solid, metallic, opaque, glitter, and two-toned colors. I like the opaque ones because they show up well on both light and dark surfaces.
Uni-Ball UM Signo White Gel Pen
I'll use these gel pens when I want to write white on a dark surface. I've explored a couple and this one is my favorite. Another one I've tried is the Sakura Gelly Roll pens in white.
Pencils and Crayons for Art Journaling
Neocolor II Watersoluble Crayons
These water-soluble crayons are great for adding color in your journal on its own or on top of acrylic paints. They have such a smooth and creamy texture when applied to a surface and blends very well.
Stabilo All pencil
I was introduced to these pencils by Dina Wakley in Art Journal Courage. It's great for mixed media art and can write on many different surfaces. These pencils are also water-soluble and easily erasable, so keep that in mind.
Paints for Art Journaling
Koi Watercolor Travel Set
I think that watercolor is always going to be my favorite art medium. I'll quickly splash on some watercolor when I like to keep things light but still add some color.
I'm currently using this Koi Watercolor Travel because it easily fits into my purse and I can bring it out when I'm journaling in different locations.
Windsor & Newton Galleria Acrylic Paints
This acrylic painting set includes nine colors, a canvas board, palette, and brushes.
The colors go on pretty well and include cadmium red hue, crimson, cadmium yellow, lemon yellow, phthalo green, ultramarine, yellow ochre, raw umber, cerulean blue, and titanium white.
Ranger Dina Wakely Gesso
If you want to use acrylic paints, I would definitely recommend a layer of gesso primer to give the paint something to grab onto. It will also help minimize the amount of paint you need to use.
Other Supplies for Art Journaling
Collage Paper Pieces
I like the vintage look, but sometimes I can't exactly find what I want with modern magazine material.
Luckily, tons of scrapbooking supplies can also be used in your art journal. This set gives my pages a pretty neat vintage look.
Rubber Stamps Letters
I am a big fan of using block letters; this set is perfect. I use it to add headings, words, or short quotes to my pages.
Ink Pad Kits
I like to use Ranger's archival ink pads in conjunction with the stamps. Since I'm generally using stamps for headings and words, I want to avoid any water-soluble ink pads. These also stamp very well over acrylic paint.
Large Stencils
Using stencils in your art journal can help add some texture and design in your spreads.
These stencils aren't the exact ones I have but are very similar. Unfortunately, I can't remember the brand as the ones that I use were given to me a while back.
Best Adhesives for Art Journaling
For adhering items to your journal (like clippings or collage sheets), you want to use the thinnest adhesive you can to lighten up the paper's weight.
I like using the purple UHU glue stick, but those have been more difficult to find lately. They have blue ones, but in my experience, these aren't as good as the purple ones.

Another way to adhere items to your journal is by using craft tape like washi tape.
Washi tape is a versatile craft tape that comes in various colors and patterns. It's light and can easily peel on and off without leaving any residue.
Using washi tape can allow you to adhere things on to the pages of your art journal AND add some color.
Art Journaling Prompts
If you're in a creative block, try using any of the art journals prompts to help jump-start that creativity! Here are a few to get started:
Quotes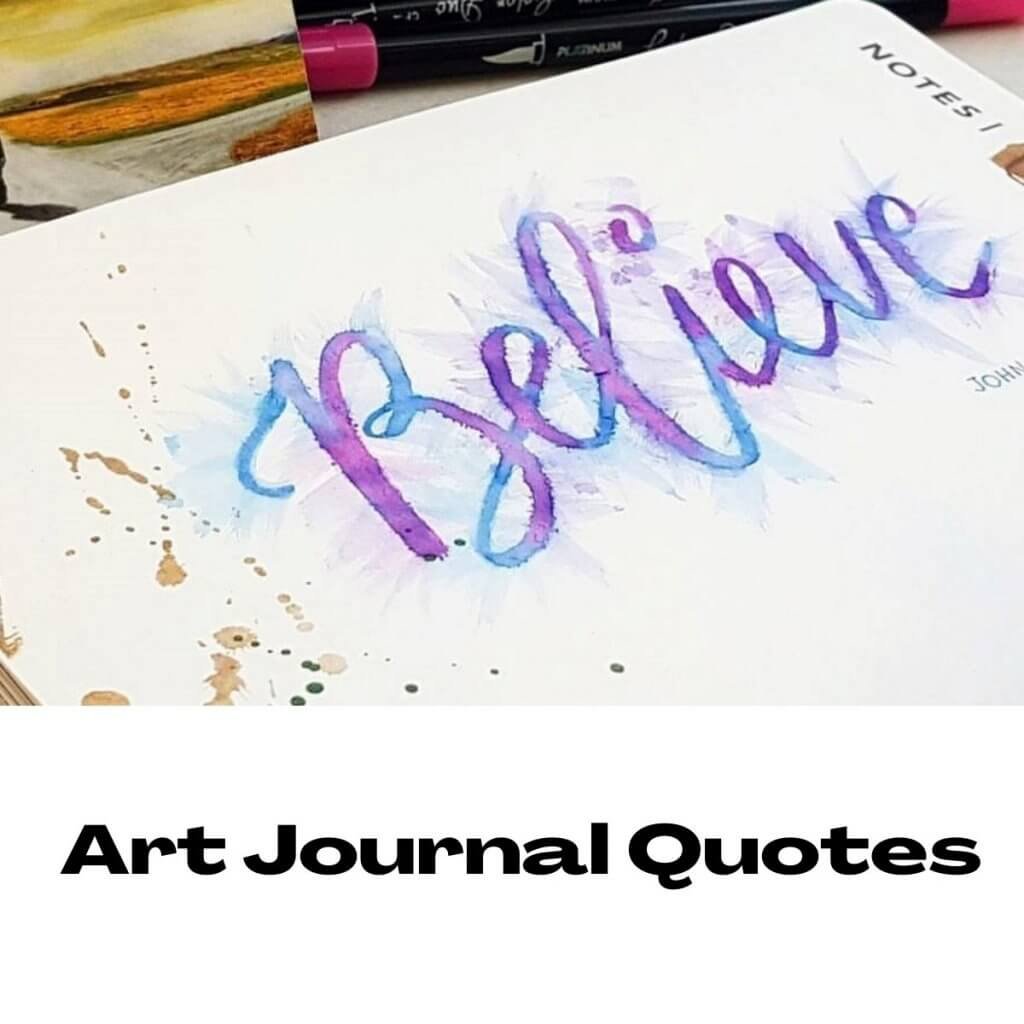 Your favorite inspirational quote
A quote you will always remember from a parent, grandparent, or significant other
Your favorite movie quote
Your favorite song lyric
A quote that describes the world's current events
The funniest thing that you heard today
A Bible verse or quote from another religious text
Journaling about Today
What you did today
The happiest moment of today
The worst moment of today
What you are most grateful for from today
What was on your to-do list today
What's on your to-do list for tomorrow
What you ate today
What you wore today
A random moment from today
Journaling about the Past
Your favorite childhood memory? If you can remember, try filling an entire journal by choosing a memory that represents a different age for each page.
Your biggest achievement
Your childhood best friend
Your elementary/junior high/high school/college memories
Your first job
Your favorite job
Your favorite teacher
Your favorite family vacation
Reflections of your growth
Biggest lessons learned in life
Travel Journaling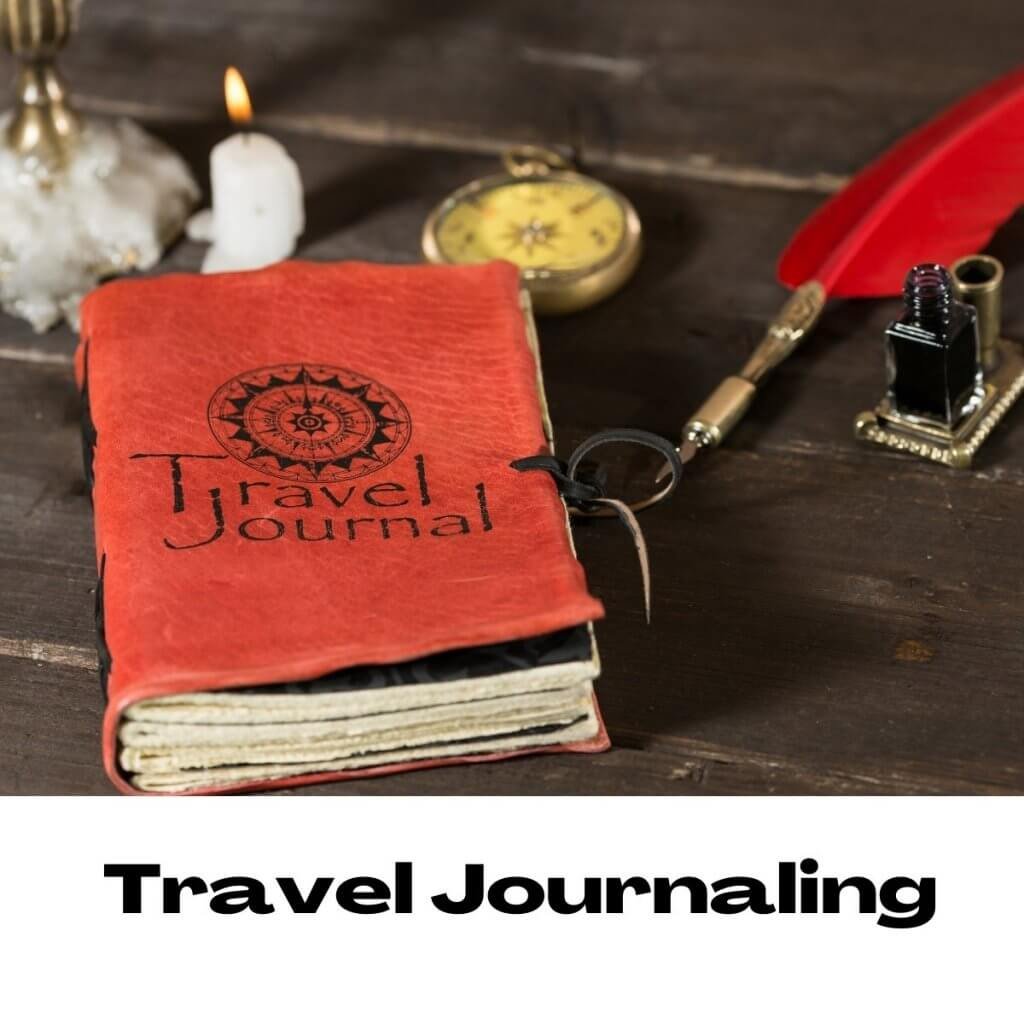 A map of where you are traveling to
Your travel itinerary
Where you are most looking forward to visiting
What foods are you most looking forward to trying
The different sites you visited
The people you met on the trip
Your favorite moment on the trip
Your favorite foods on the trip
Other Prompts
A favorite recipe
Favorite television show
Favorite movies
Favorite books
Favorite activity
Favorite person
A pivotal moment in your life that changed you
A lost loved one
Your thoughts on your family members
Your thoughts on your friends
Your thoughts on your schooling/career
What you are most looking forward to in your life
Art Journaling Inspiration
The best inspiration when you're just starting is to see what other experienced art journalists are doing.
You can begin by trying similar techniques until you find ones you enjoy and can develop your own style.
Conclusion
Art journaling is a great hobby for any creative soul. You don't need many skills or supplies to get started.
Art journaling is all about creative freedom and expressing your emotions through art. You can use supplies you already have or check out some of the products recommended above.
Let us know in the comments below if you're thinking about starting an art journal or if you already have one!