Welcome to my Fun Guide to Easy Nail Art Designs for Beginners. Are you interested in doing Nail art yourself and don't know how to begin?
This guide is a perfect start to getting into Nail Art.
What is Nail Art?
Are you thinking of a bunch of construction nails clustered together? Or nails forming pictures and collages? If so, you would be very wrong, unfortunately. Well, in a matter of speaking, at least. In fact, we need you to think much smaller. While thinking about nail designs, look down at your hands and feet.
Now that I have got you staring, looking for a sign, did you notice your fingernails and toenails? Boring right? The most important thing this guide will teach you is some easy nail art ideas to spice things up.
Nail art is the spice you add to those nails with a little (or a lot) of decorating. It's so fun getting a manicure that suits your personality or the season. In fact, it's an out-of-the-box tradition.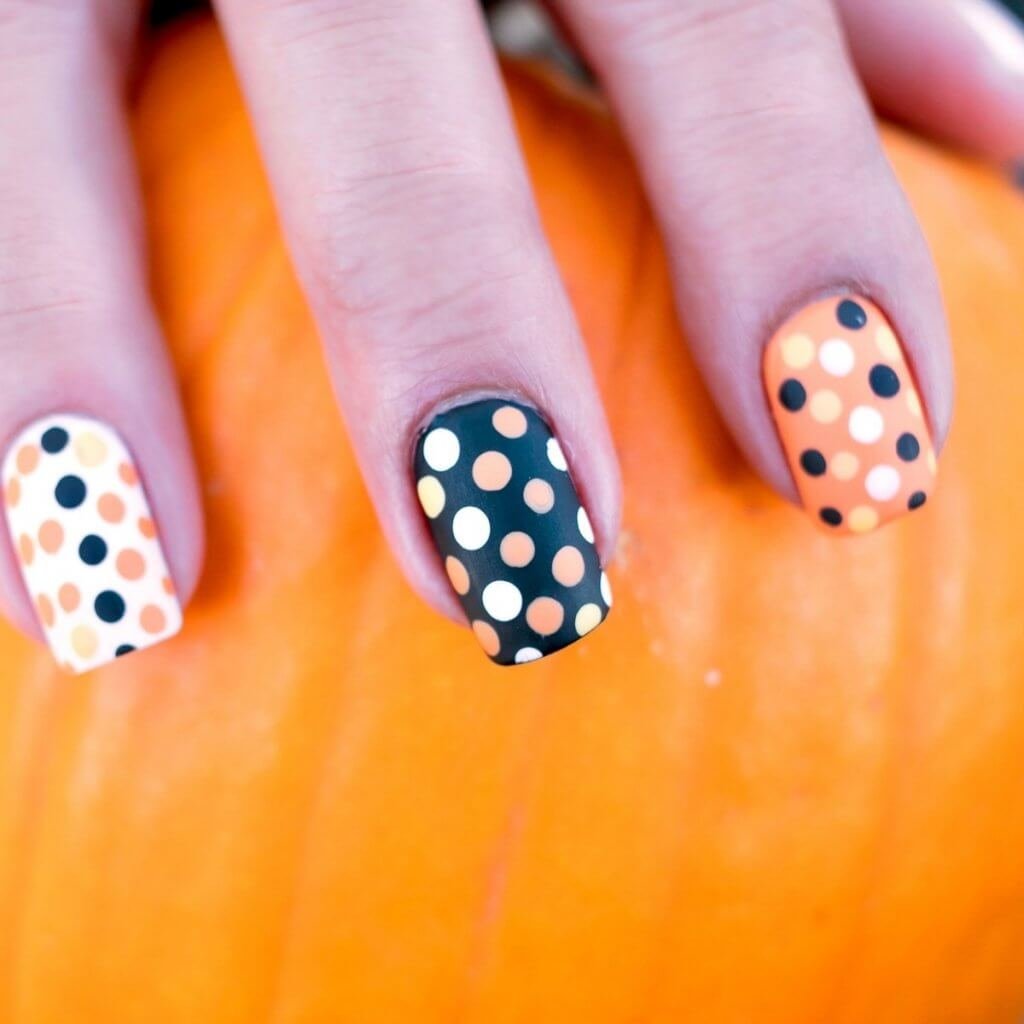 You can see women of all ages – be it five or eighty-two – rocking their nail art. As a matter of fact, some women prefer subtle, plain colors for nail art ideas.
For example, we can look at Queen Elizabeth's famous preference for 'Ballet Slippers.' Others prefer bold red or youthful sparkles. In contrast, some others would go for something trendy, like galaxy nails or ombre nails. In either case, different shades of one color are always a good choice for an understated, polished take on nail art.
Yet, nail art is not limited only to the color of the nails. On the contrary, you can wear your nails long or short.
Nails are also cut into countless shapes, all according to the wearer's preference. But, custom ideas with a high-end look are what we're always after. It's important to realize that everyone's style is different.
Are you looking for a new Hobby? You might like our Beginner Guides for:
Some of the more common shapes people love are:
Almond, where you cut and file the nails into, you guessed it, the shape of an almond.
Stiletto nails are those pointed, claw-shaped nails. They look like the heels of some gorgeous stiletto shoes.
There's the square shape, where you cut the nails into a uniform square.
But if the square is too basic for you, you can also try the coffin, which is a square with a bit more dimension.
Recently there has been a new trend where people have been getting a lipstick shape. I would describe that shape as 'interesting' but, to each his own.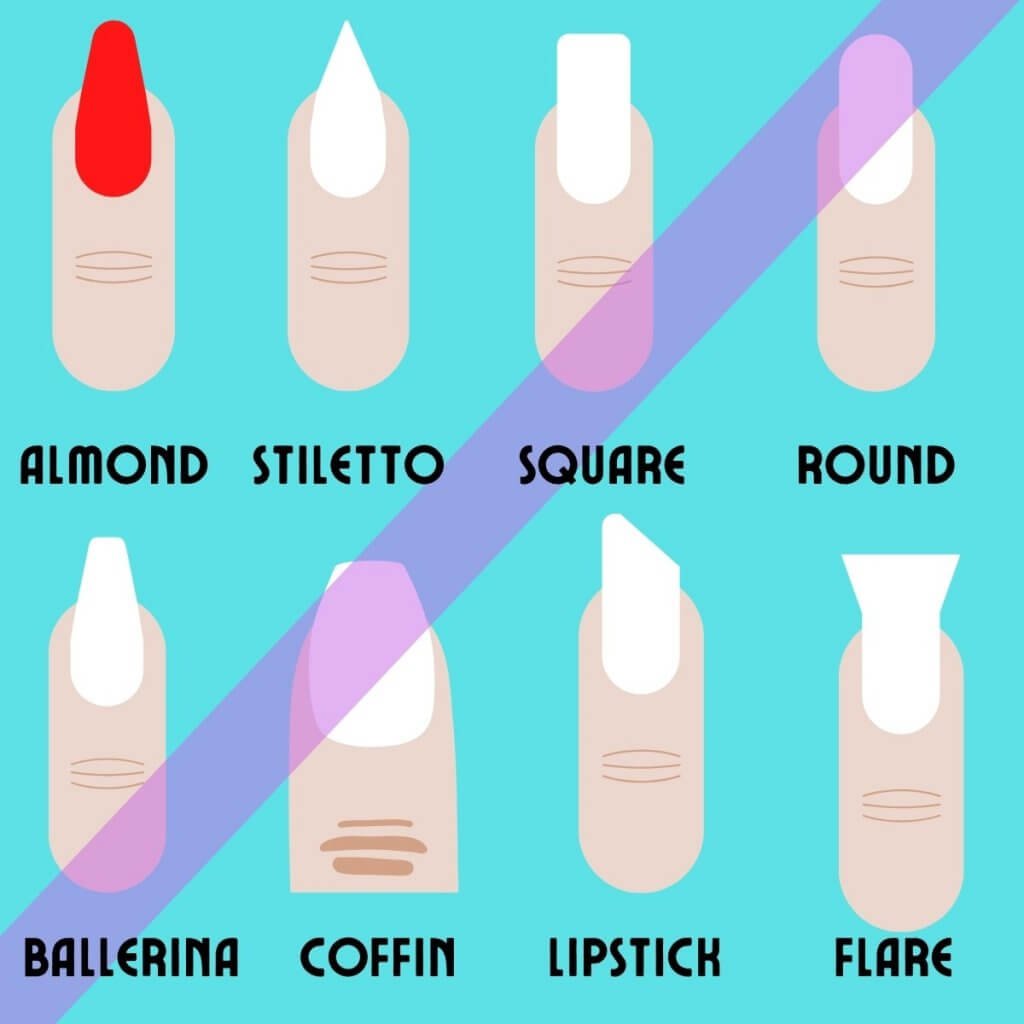 Like makeup, nail art is, in essence, a creative means to express yourself. Nail art thus becomes a way of showing off your mood, sense of style, and much more.
In fact, your nail art ideas can tell quite a bit about you and who you are. Your nails have a voice. Moreover, you can find that voice right here in this nail art guide. Loving the ideas we've shown you so far? Read on to find out more!
What Do You Need for Nail Art?
Well, nails! But to elaborate more, it would depend on what you want to achieve with your nail art.
Accordingly, this guide can show you easy nail art ideas for short nails and long nails too. So, the basic list of essential nail art kits for beginners should include:
Nail polish
Paint brushes (of different thicknesses)
Dotting tool
Nail polish remover
Cotton swabs
Base coat
Clear top coat
Nail file
Nail clippers
Scotch tape
Manicure tweezers
Nail polish correcting pen
Plastic sheet
These nail art tools should suffice for beginners. Here is a direct link to add all these to your shopping cart. Try these out before attempting the more intricate designs.
You need some more tools depending on the exact type of nail art ideas you would like to do. For instance, if you are trying to achieve a matte effect, you must use a matte topcoat. We'll also show you a plastic wrap technique to add texture to the nails.
Having different shades to start your easy nail art journey would also be helpful. In fact, you can get all these colors from Amazon. Choose from:
Bright colors are having a moment unless you go for a minimal design. In fact, you can start with one and follow up with the other colour on the next nail.
Also, never forget your toes. Often when people think about nail art, they think only about fingernails. Lucky for you, I can tell you how to achieve easy nail art designs for beginners. It's equally important that you know white nail paint for toes is a thing right now. But, you need to know each white nail polish step before you start.
Luckily, you will not need any special tools for toenail art. As a matter of fact, what you have for your fingers will work fine for these simple nail art designs.
Basically, anyone can do nail art; you do not need a master's degree to have bomb nails.
9 Easy Nail Art Tips Before You Start
1. You need to begin the process with clean nails.
Before doing any nail art, ensure that the first thing you do is wash your hands.
To enhance your results, use this hack. Firstly, soak your nails in water with a hint of white vinegar for two minutes to deep clean your nails. It will also make your nail designs last longer.
2. Using nail clippers and a nail file, you next need to shape your nails.
Below is a chart of different nail shapes you can try. Cut your nails to the form that you think will fit you best.
3. Push your cuticles back, and cut any dead skin.
This step is the extra push you need to achieve salon-quality yet easy nail art that certainly lasts way longer.
4. Next, we alter the texture of the nail bed by buffing it.
The change in texture chiefly gives the nail polish something to grip.
Furthermore, this hack will keep your nail art looking great for longer. Be careful with this step. We do not want you to over-buff your nails.
5. Gently dab a bit of petroleum jelly around the cuticles and the tip of your fingers.
This way, it will be easier to clean up any mistakes you may make while you paint your fingers.
6. When filing your nails, ensure that you go only in one direction and not in an eraser motion.
The constant back and forth motion can cause fissures to form. Though they are minute, over time, they grow.
By the same token, they cause the tips of your nails to peel, taking your nail art design with them.
7. Dip your hands in cold water for 2-3 minutes before you begin painting.
Surprisingly, this step reduces drying time for your nail art as it aids the nail paint in oxidizing from the inside out.
8. Using a lint-free paper towel and some rubbing alcohol, clean the nail bed one last time.
This step is especially important as it gets rid of any impurities that may ruin your artwork.
If you do not find rubbing alcohol handy, you can substitute it with acetone or nail polish remover.
9. Apply a base coat to protect the nail from stains. Some base coats act as hardeners.
They also protect against the damage incurred during the preparation process.
Nail Art Kits for Beginners.
Another key point is, that depending on the desired nail art design, you may need different tools.
Lucky for you, there's no need to sign up or search anywhere. You can get all the nail art tools you need for the following designs using the links provided!
We recommend getting the Basic Nail Kit as well as any other fun kit you may want to try out. At least, the Basic Nail Kit comes with all the essentials needed for killer nails.
Basic Nail Kit
Party Dots Kit
Nail color number 1
Nail color number 2
Bright Bolts Kit
Nail color number 1
Nail color number 2
Matte Effect Kit
Pastel Tips Kit
Nail color number 1
Pastel color number
Smiley Face Nails Kit
Nail color number 1
Nail color number 2
Little Hearts Kit
Nail color number 1
Nail color number 2
Pretty Leaves Kit
Nail color number 1
Nail color number 2
Classic Polka Dots Kit
Nail color number 1
Nail color number 2
Colorful Splash Kit
Nail color number 1
Nail color number 2
Nail color number 3
Nail color number 4
Golden Stripes Kit
Black and White Kit
Sprinkle of Glitter Kit
· Nail color number 1
7 Easy Nail Art Designs for Beginners
Read on for a step-by-step tutorial on achieving some super fun, super easy nail art designs on your own.
They go from the basic to the French-like manicure with pastel colors. To clarify, each of these designs is for beginners.
You don't need a master's degree for these nail designs! They'll go great with most makeup looks, creating a stunning effect.
1. The Basic Nail
Achieving the basic nail is relatively easy. You must also use this simple technique to make a base for many other easy nail art designs.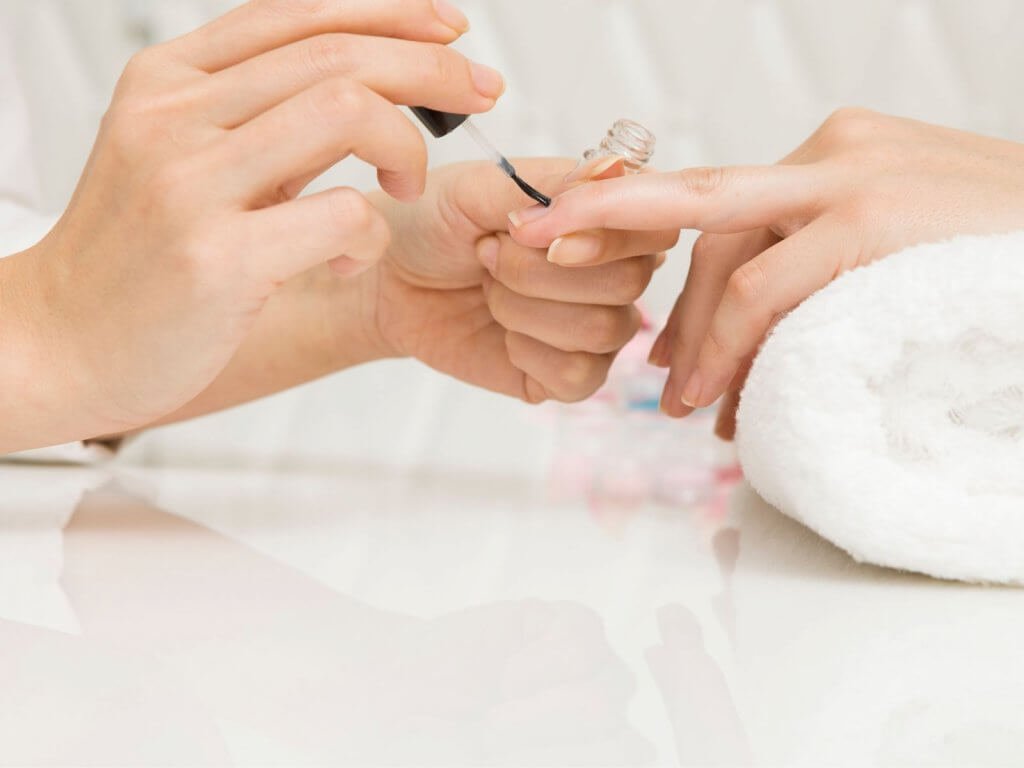 First, work on a clean surface to prep the nail and apply the base coat. Apply a thin layer of your chosen nail color.
Apply nail paint in one direction, moving from the cuticle to the tip.
Seal the tip by painting across its perimeter once you cover the entire nail.
Repeat these steps with every finger.
Repaint each fingernail once the first layer cures. Remember to seal the tips.
Brush on some clear nail polish and seal the tips.
Allow at least six hours for nails to dry completely.
There you have it! A Basic Nail manicure.
2. The Matte Effect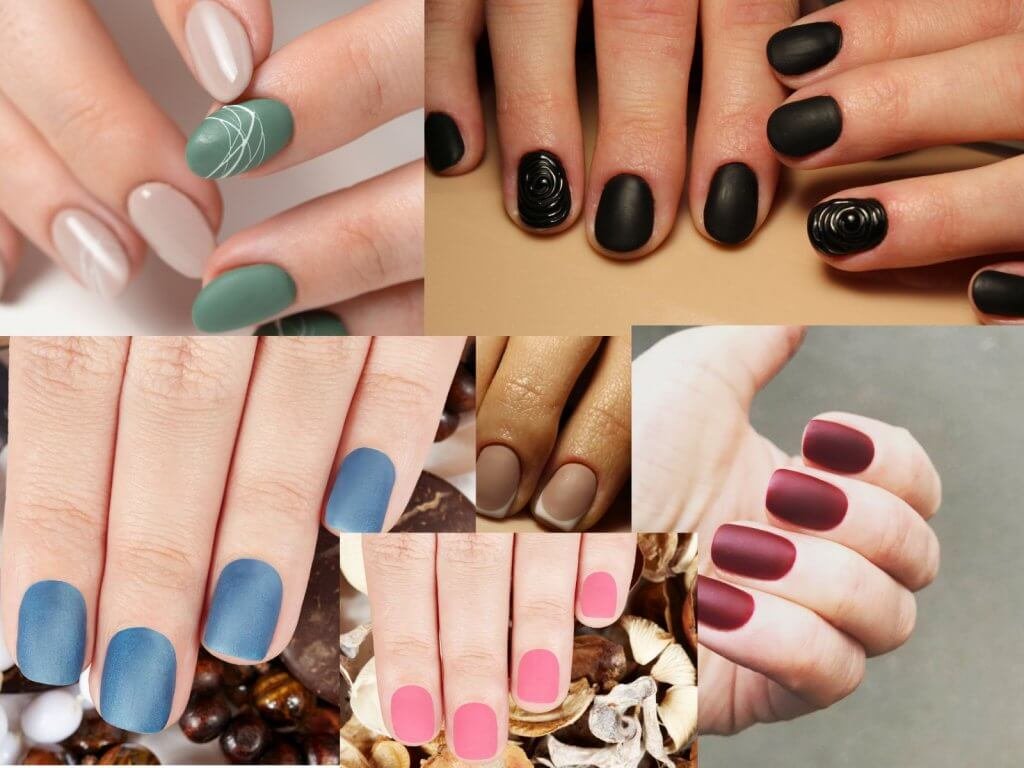 Begin by prepping the nails as explained above.
Additionally, after applying the base coat, choose your desired nail color, and use a thin layer of the paint.
Here's another hack: you can start with a dark stain on the little finger and follow it with lighter shades on the other ones.
While waiting for the first nail to cure, you can apply that first thin layer to each of the other fingers.
Once the nail polish cures, apply another coat of paint to each nail.
Remember to seal your tips as you go along.
Finally, apply a mattifying clear polish topcoat to the nails. Seal the tips and allow the nails to dry completely for about six hours.
And there you have it! Super cute, super easy, matte nail art on your fingernails.
3. Pastel Tips Nail Art Design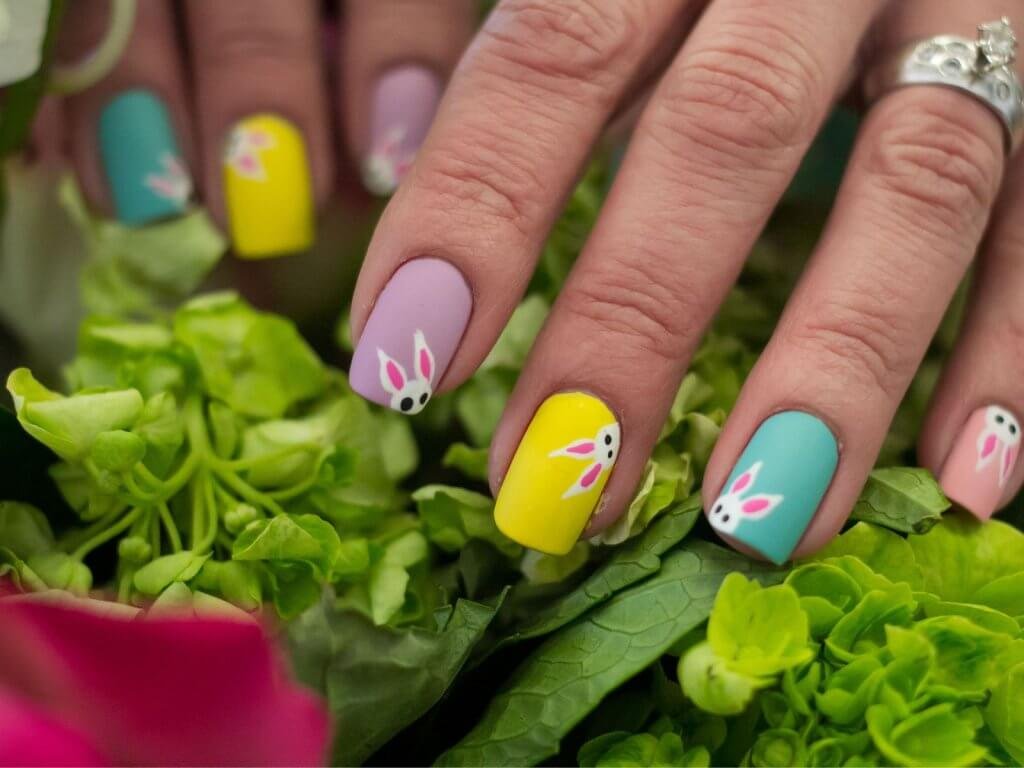 This design is like a French manicure. You will love this beautiful nail art design if minimalism is generally your style and pastels are your jam.
As explained above, we begin by prepping the nails. Once you've completed this and applied the base coat of nail polish, we can move on to step two.
Step two: Apply two coats of nail polish (of your desired color) to each finger and allow it to dry. Remember to seal your tips.
Select a pastel-colored nail paint you would like to use.
Create the tip effect using a very thin paint brush. Dip your brush into the nail polish and then place it on the tip of your nail.
Drag the paint brush from one corner of your nail to the other, along the path of the tip. Use only the width of the paint brush.
Fill in any gaps between the line created and the edge of the tip.
Allow the Pastel Tip to cure, and then apply a coat of clear nail polish to set.
4. Classic Polka Dots
Choose a few colors to create a bunch of different-sized dots all around the nails. Remember that overlap coupled with variation is part of the fun here.
Begin by ensuring you have prepped your nails as specified above.
Once you have applied the base coat, you can choose a nail color.
Apply two coats of polish to your finger, then seal the tips.
Dip it into the nail polish using the dotting tool and gently tap a dot wherever desired on the nail. A thin nail art brush is the perfect tool for this step.
Create the dots randomly, or structure them until you're satisfied with the number of dots.
Do the same to the remaining nails.
After the dots have cured, apply a clear polish glossy topcoat. Step back and admire your easy and undeniably beautiful classic polka dot nails.
Suggestion: You can do large and small polka dots using alternating colors. For example, make dots on all your nails using:
Pink nail polish
Gold nail polish
Peach nail polish
Green nail polish
Blue nail polish
White nail polish
Black nail polish
Or, you can create negative space using clear nail polish as your base. Use either white nail polish or black nail polish for your dots. Finish with a top coat, and voila! This design will make you look like you've stepped out of the nail salon.
5. Little Hearts Nails
Little hearts are easy to create, and they will obviously get your hands lots of attention.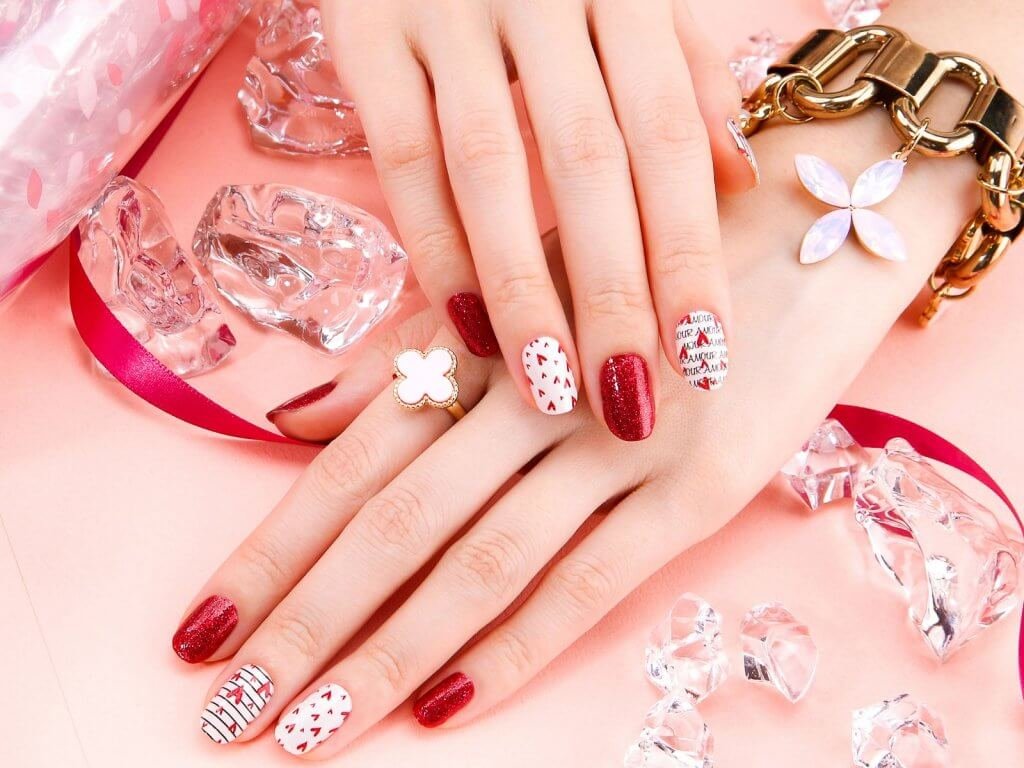 Prep your nails in detail as explained above and apply the base coat. Select the color that you would like for your nail art design.
Apply two coats to the nail and seal the tip.
Once the polish has cured, use the dotting tool, and dip it into the nail polish color that you would like your heart to be. Create two dots near to each other but do not let them touch.
Next, take a thin paintbrush and create a diagonal line from the outer edge of one dot. Move it towards the space separating the two dots and stop at the midpoint of that space.
Do the same with the other dot, in the opposite direction. Let these two new lines meet at the intersection and form the letter 'v.'
Fill in the space and connect the two dots with a subtle 'v' at the top.
Repeat as many times as desired.
Allow the hearts to cure and finish the nail with a clear glossy top coat.
Repeat this technique on your remaining fingernails.
Pink nail polish works well for this look. You can also make some of the hearts using blue nail polish (or any other color you like). Finish the look with a clear coat and a bit of glitter.
6. Golden Stripes
You can use gold nail polish and any other color to create a stunning look.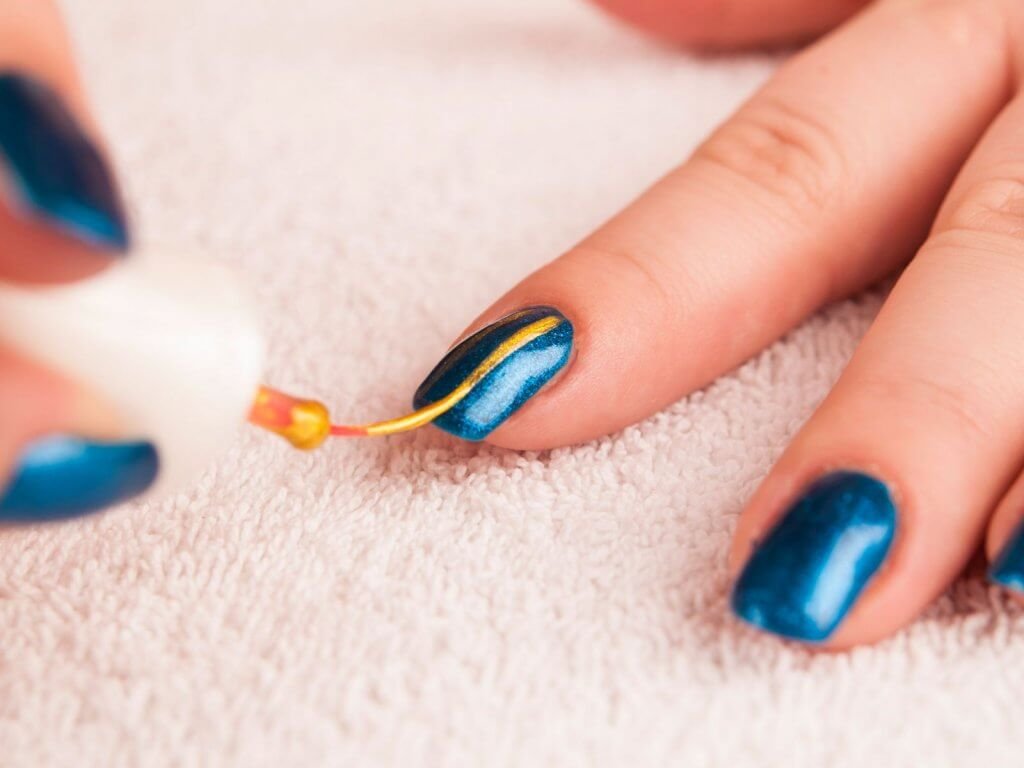 First, prep the nails as instructed above and apply a base coat.
Next, select a nail color. Use something that will complement the golden stripes, but the choice is yours.
Apply two coats, and seal the tip of the nail.
Let the second coat cure.
Cut the scotch tape into pieces and place them in vertical or horizontal lines over your nails. Leave spaces between them that are the same width as the tape. What's more, if you're lazy, you can get premade decals from Amazon.com.
Next, apply a layer of gold nail polish over the decals. You can use a second coat if your nail polish is not very opaque.
Remove the decal or tape strips once the nail polish has had some time to cure.
Apply clear polish glossy top coat and some glitter. Repeat this nail art design on the remaining fingers.
7. Colourful Splash
The Colorful Splash kit can create some fantastic looks.
First, ensure that you prep your nails, as directed above.
Once you have put on the clear coat as a base, you can begin preparations for a water marble.
Using the marbling container from our 'Colourful Splash Kit' and add some water.
Choose the colors you'd like to use for your nail art design: the more colors you choose, the more dynamic your manicure.
Add a drop of nail polish into the water.
Add a second drop of a different color in the center of the first drop.
Now add the third drop of another color again in the center of the current mixture.
Repeat this with as many colors you choose to use and feel free to repeat colors you like.
Using the wooden cuticle pusher, distort the layers of the circle into a shape of your choice. For example, you can create a star, square, or spiral.
Next, dip the prepped nail into the marbling container so the nail polish can wrap around the nail.
Remove the finger and clean up around the cuticle.
Afterward, apply your clear topcoat, and repeat these steps for the remaining nails.
Try one or two of these art ideas. For instance, you can brush on one shade or even two shades to make your magic. In addition, basic designs like three dots or glitter are well within your reach.
For one thing, your tools are simple: scotch tape cut in varying sizes, a brush, and decals are all you need for your art ideas. Always remember the clear polish step to finish your look.
For further art ideas, take a look at the tutorials below. There's no need to search in detail for YouTube tutorials: we've covered you. By all means, look at them to avoid the common manicure mistakes that people tend to make.
Nail Art Tutorial Videos for Beginners